How Not to breathe so you Can breathe.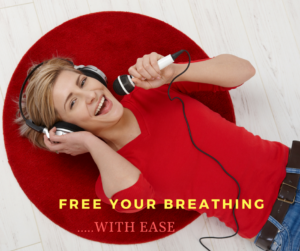 After all the lessons you have had on breathing, no matter where or with whom, chances are you are you're still puzzled as to how to do it better.
Is this you?  Do you ever ask…. "How come even when I take a good breath in at the beginning of a complicated passage, I often tend to still not have enough for it?
Here are some tips to make you think.  Maybe, just maybe you are looking in the wrong direction.
Tip 1. Refuse to practice controlled in and out breathing; it actually does not enhance the quantity, it rather can get in the way.
Tip 2. Give yourself permission to un-panic at the onset of an in-breath.  Taking the trouble to wait a moment gives you a moment to ease.  This eases all.
Tip 3. Let the music do your breathing for you.
Tip 4. Keep your brain-lungs free and easy….include your neck in this one too.  The free neck gives freedom to the whole body and lends itself directly to better sound.
Tip 5. Using the natural breathing system means letting the diaphragm operate the way it can at its best.  After all, that is the way it has been from your first in-breath, when no one was there to instruct you!  And you made it!   I know that because you are reading this.
Breathing is inevitable!
It is the most important aspect of the singers set of tools.
So … can you take it too seriously?
Can it become a burden instead of a happy occasion?
Certainly so!
Take a look at this 3 minute video as Jean – an Alexander teacher lets a whispered out-breath convey her joy and freedom  click here
"I see at last if I don't breathe, I breathe".  This is quoted by a student taking Alexander lessons.  It caused her monumental exclamation!  Her previous effort to breathe had hindered the easiness of it all!  Till her discovery!
Take a giant step into having fun with your voice…
Let the air flow with the song,
be sure to have evidence of your enjoyment on your face.
If your face is lit up even just a little, you give permission for your body to 'light up' too!
Use your practice times to un-couple from effort, struggle.
Find fun in each song.  Yes, even while practicing.
Let your confidence shine out of the un-worried, un-hurried pace.
Take time to discover the joy of singing again.
Thank you for reading my blogs and letting me share with you what I am passionate about…your voice, your breathing, and how you can have the most positive effect from it all.
If you're interested in learning more about these aspects, keep reading, I have some exciting plans for up-coming times ahead.  Or contact me for more here